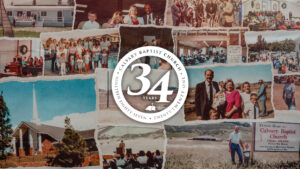 Dear Church,
As you know, our 34th Anniversary on May 2 is Pastor and Mrs. Wendy's retirement celebration, as well as the transition service. We've been preparing like crazy for the day itself, and for the years of ministry to come.
I wanted to help you know what to expect for the special day.
First, it will feel like CHURCH. We will do one service at 10:30 am (no Sunday school), but it won't have a whole lot of hoopla. And it won't all be about Pastor Rench. He's done a lot to make Calvary Baptist Church what it is today, but he'd feel like a pretty bad pastor if the glory went to him. So, our church service that day will be just like every other week—glorifying God. On purpose, we'll still worship God through singing, worship God through praying, worship God through giving, and worship God through bowing. Pastor won't become a spectacle.
Second, we'll have a few fun MEMORIES. Bro. Christian is working on an updated history video that we'll include in the service, and my mom gathered up some of our past photo albums to browse. We'll have a history display set up for members to see how much has changed over the years, and several past members are planning on joining us for the services.
Third, we'll have a special PRESENTATION with a simple "Thank you" video. We appreciate our pastor and have a special presentation to make at the close of the service. Pastor will preach a sermon as normal, and after the close of the invitation, we want to honor him and my mom.
Fourth, we'll move outside to capture a GROUP PHOTO. We will gather on the front steps of the church and in the grass around the flag pole, and Bro. John Solie will snap a few group photos to capture the day's crowd. Next, we'll pray for lunch, and then…
Fifth, we'll enjoy a catered LUNCH. One of my mom's favorite Italian restaurants is Filipi's Italian Grotto, and Mrs. Joy Beavers is preparing an incredible catered meal of lasagna, spaghetti, salad, and dessert. We were at first thinking potluck-style simplicity, but Mrs. Joy is making it special, and I'm so excited for lunch!
Sixth, the AFTERNOON service will be the transition. Immediately after lunch, we'll move back to the sanctuary for 2 congregational songs (Pastor's and my favorites), a special, the short transition ceremony (nothing cheesy), and my first sermon as Pastor.
After a full, emotional day, we'll be ready to go home! Our afternoon service will be in place of our evening service, so we'll go home and crash!
WHAT WILL THEY DO? 
Several people have asked about what Pastor and my mom will be doing next.
Pretty much the same as before!
They will be away from our church for at least 2 months, going to other area churches to help us acclimate to the change. My mom has covered her cleaning duties with Tammy B., Alisha M., and Naomi T., and worked with teachers to run Junior Church in her absence. Pastor has been spending months getting moved out of his office—all his books are home, his filing cabinets are emptied, and his duties passed on. Bro. Jim Wilson will teach the Fellowship Class until they return.
After the summer, Pastor will again teach the Fellowship Class and he will be available for visits, Bible questions, and other pastoral duties, although he will no longer have set office hours. He will be around the church working on projects, but will not be on full-time staff (and all that entails).
My mom will return to her many responsibilities of cleaning, supplying and organizing, and overseeing the Junior Church.
FINANCES
The church approved the retirement budget, and the deacons are working on the final details to continue the life insurance, health insurance, and per annum salary as Pastor Emeritus. No staff raises were included in this year's budget, although we increased Bro. Christian's workload (added another day) and increased his pay accordingly.
TIMELINE
People have wondered about Pastor's thoughts on the matter. I tried to show a few weeks ago that this has been a long-term process, and I believe God has been working in our church to bring us to this point.
This timeline helps us see how God's been working in our church all along:
• 1987 – May – Calvary Baptist Church planted
• 2010 – Pastor Ryan joins staff
• 2014 – Christian Saldana interned here
• 2015 – Started talking internally about the pastoral transition
• 2017 – Contacted Bro. Christian about becoming youth pastor
• 2018 – Bro. Christian married, worked at Central Baptist for 1 year
• 2019
o January
Saldanas moved to Temecula
Vision Sunday – Announced Pastor's retirement set for 2021
o February – Pastor Ryan ordained
o May – Saldanas took over Teens of Faith
o August – R. Renches started Rooted Young Adults class
• 2020
o March – Pastor Ryan preached weekly
o June – In-person services, Pastor set a retirement date of May 2, 2021 (34th anniversary)
• 2021
o January
Bro. Christian comes on staff full time
Retirement details and budget finalized
Pastor

Ryan

preached Sunday mornings
Church votes to approve Pastor

Ryan

 to succeed Pastor Rench
PASTOR'S THOUGHTS
Finally, my dad's bulletin note for this week gives his thoughts on the transition:
"Our 34th anniversary as a church is just two weeks away, and so also our pastoral transition.  I have been a pastor now for 40 years, having pastored in Eugene, Oregon for 6 years, and now here at Calvary Baptist Church for 34 years.  We planted the church when I was 35 years old, and now at 34, Pastor Ryan is to assume the role of Senior Pastor.

"He is significantly ahead of where I was at 35, as far as preparation for the pastorate is concerned. His Bible college experience at Heartland Baptist Bible College included training from some of the finest Bible preachers and teachers of our day.

"In practical application, he has received experience in great ministries such as Southwest Baptist Church in Oklahoma City, where he and Jamie served for over 4 years, and then at Bible Baptist Church in Stillwater, where he and Jamie served on staff for over 2 years.

"Then here at his home church, he has served in many capacities—Youth Pastor, music director, young adult Rooted Class leader, and Associate Pastor—for the past 11 years (as of May 2010). A combined practical ministry experience of almost 17 years is a great foundation for the next chapter of his ministry as Senior Pastor of Calvary Baptist Church!

"I understand we even have some former members from out of town coming to celebrate that day of anniversary and pastoral transition with us, so let's all look forward to a great day in our Lord's house together, with new and old friends, on May 2, 2021!  In what was perhaps a prophetic glimpse, the church calendar picture for May shows a younger Pastor Ryan and me in front of our first partially-completed building. (He and I both had a bit more hair then…sigh…)"