Today we are taking a special offering for next week's Missions Revival. Bro. Christian preached last Sunday night about feeling a sacrifice. He wondered out loud, "Have I ever felt my sacrifice?" That's a good question.
For you, feeling a sacrificial gift might be giving several thousand dollars, as it was for Mary when she sacrificed her alabaster box in the worship of Jesus. My family has committed several hundred dollars, and in these times of rising costs, we feel it. Or, several tens of dollars might be a sacrifice, and that is great!
The very sacrifice of something precious to you is what's precious to God.
Our Missions Revival offering goal is $10,000, which will go toward airfare, lodging, meals, and a love offering for each missionary (and their kids, too!). We could always be more generous, and I believe we can grow in this, but this $10k will be a great start.
Today's sermon is about the very earthiness of spiritual servants. Our missionaries are ministering in spiritual things, but they need food, cars, and doctors, and those things require money. Since they are ministering in spiritual things, we get to minister to them in what the Bible calls "carnal things"—money!
OUR CHURCH FINANCES
I have been working this week on our 2024 budget and some three-year financial goals for our church, and I am so thankful for the faithful giving of God's people—you—to further the Gospel!
Not too many people get excited about pie charts, but humor me… The next page shows a beautiful, glorious, exhilarating pie chart of our church budget breakdown.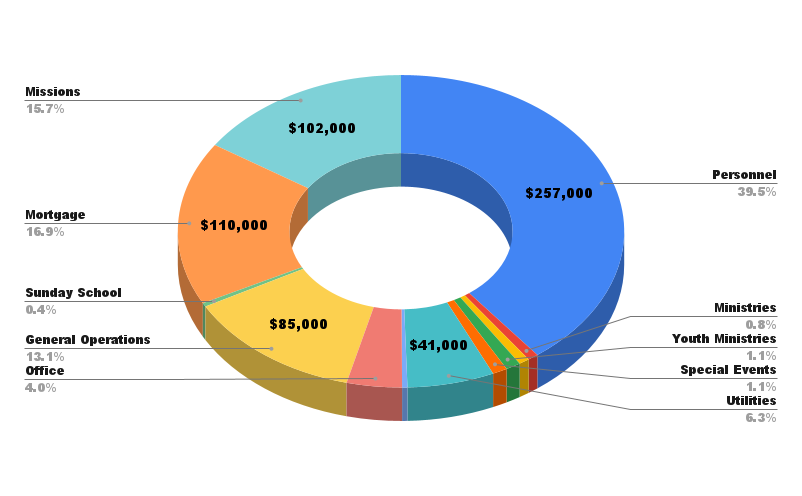 You can see that of the $650,000 annual budget, not quite 40% is staff (salaries, support staff, health insurance, pension, etc. I know, some of you thought that $250k was only my salary!) From the research I found, most church budgets spend between 40% – 60% on staff.
The next few categories are ministries and special events, and the big teal category is Utilities. The Office category is a big one with weekly prints and materials, and our General Operations includes all the maintenance and major purchases (e.g. our new golf cart). The mortgage payments are about $9,000 per month, and the final category is Missions.
Next Sunday night, I will be giving more statistics (and pie charts!) on our missions giving, and it is amazing what can happen when we all get on board with supporting our missionaries. We send $100 per month to over sixty missionaries and missions works, and every single month of the year we have several missionaries contact us about scheduling meetings to gain financial support. I wish we could help all of them, but we cannot take on more than what we commit to support, so that is a part of what our Missions Revival will help us to see.
I am thankful that God allows us to give to further His kingdom. It is a worthy kingdom to give to, and I constantly find God faithful when I sacrifice for Him.
God bless you,
–Pastor Ryan